3D acrylic Poinsettia flower picture tutorial ~ Nfu.Oh
12-11-2008, 08:12 PM
Post: #26

(Print Post)
Nail Beauty
Junior Member


Posts: 4
Joined: Oct 2008
Reputation: 0

Can you post a picture of the finished encased nail? These look so beautiful!
12-11-2008, 10:08 PM
Post: #27

(Print Post)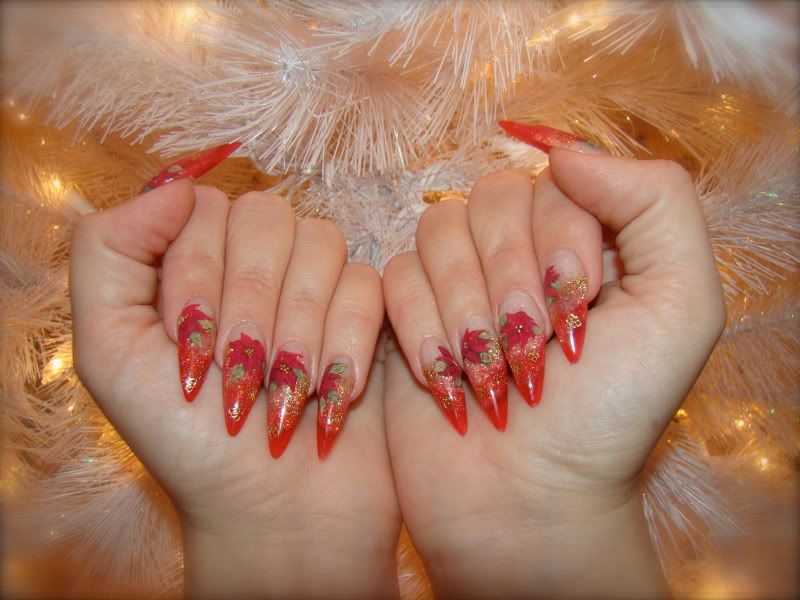 These are what I'm wearing right now... everybody is going crazy over them!They look even better in person
Glad you all enjoyed the tutorial. This is really an easy flower for all of you beginners. Give it a try!!! Then post a picture... I'd love to see!
---
Gina Silvestro
Akzentz Distributor/Educator
http://www.GelEssentialz.com
Akzentz Online Store
12-11-2008, 10:34 PM
Post: #28

(Print Post)
Diane MacQ
Junior Member


Posts: 12
Joined: Jan 2006
Reputation: 0

I find it amazing that you so generously share you talents. Thanks so much. Inspires me!

Diane
12-11-2008, 11:12 PM
Post: #30

(Print Post)
AMYoung
Junior Member


Posts: 2
Joined: May 2008
Reputation: 0

This step-by-step tut makes it look so easy! I gotta look at this and practice LOL
---
"Knowledge is the food of the soul."

Odyssey Nail Systems Educator
Akzentz Certified Educator
VietSALON magazine contributor
BeautyTech.com supporter
Possibly Related Threads...
Thread:
Author
Replies:
Views:
Last Post
Bat, Tree, and scene Tutorial ready. Short nail friendly
sobeit
19
11,351
10-26-2011 08:26 PM
Last Post: sobeit
Spider Tutorial as requested. *monster tutorial added!*
sobeit
11
5,634
10-08-2011 11:49 AM
Last Post: sobeit
+ + + TUTORIAL - UV-Gel Roses + + +
laDiva
11
8,181
04-30-2011 07:39 PM
Last Post: jb100680
Blue glass Edge nails ***Tutorial*** (pics)
NataliaNY
9
11,290
02-21-2010 11:36 PM
Last Post: LucyPink03
The "Edge" Tutorial
enhanced
6
9,886
12-22-2008 07:10 AM
Last Post: scratchmyback
Korame Gels [PICS!] Gradient and 3D Gel tutorial.
BeRrYGuRl
10
12,249
12-21-2008 04:06 AM
Last Post: HeatherNicole
Sandy's Baroque (yellow nail) tutorial per G's request ;)
Sandy Combs
10
12,164
12-20-2008 01:27 AM
Last Post: Sandy Combs
Safari WILD Kingdom Video Tutorial **NARRATION added:o)
*****Cindy
33
24,755
12-15-2008 07:00 PM
Last Post: wendynailart
3 D SANTA TUTORIAL
ATWISTOFFRENCH
14
11,364
12-09-2008 02:49 PM
Last Post: ATWISTOFFRENCH
BACKFILL Halloween canes lil TUTORIAL
ATWISTOFFRENCH
4
8,689
09-20-2008 07:51 AM
Last Post: Kristina
User(s) browsing this thread: 1 Guest(s)