BACKFILL Halloween canes lil TUTORIAL
09-20-2008, 12:25 AM
Post: #1

(Print Post)
BACKFILL Halloween canes lil TUTORIAL
I re-did one of my nails today, and took pics for anyone who wants to see. I know everyone always asks for tutorials, so I hope this helps explain it to someone out there! forgive the angles of the pics, it is hard to do on your own!
so... fill nail bed area, cut in, or form your smile line with it...
after cutting in smile, take down existing design as thin as possible
apply black acrylic and place canes in the wet acrylic...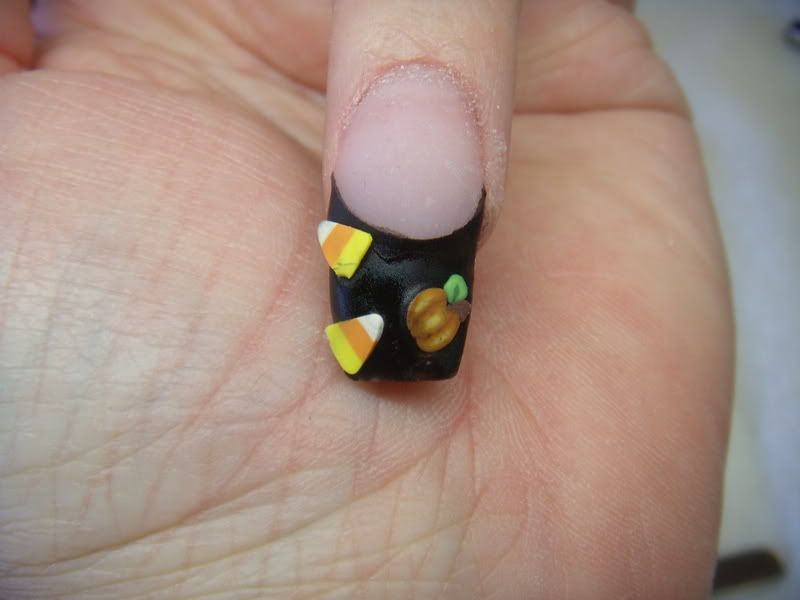 apply mylars...
cap whole thing with clear....
file and finish with Finish Gel.
sorry the finished pic isnt as good as the rest... a bonehead move on my part... I forgot to snap finished result while @work, so I took it now!
---
G. Elizondo
http://www.myspace.com/atwistoffrench
http://www.globalnailart.com
"Life is Good"
Young Nails Mentor
09-20-2008, 12:48 AM
Post: #2

(Print Post)
bengalkat
Member


Posts: 61
Joined: Jun 2006
Reputation: 0

Re: BACKFILL Halloween canes lil TUTORIAL
Great job with that, G!
---
Michele
09-20-2008, 06:42 AM
Post: #3

(Print Post)
Thank you G - that answers a whole lotta questions I had about embedding fimos and mylar in acrylic. Now I see they don't all have to fit or lie thin on the free edge. I was stressing too much about that....even though I know you can file them and not file the design off...duh.

Beautiful nail too!
---
Laura Merzetti
http://www.scratchmyback.ca
CND Education Ambassador
Toronto, Ontario Canada
09-20-2008, 07:51 AM
Post: #4

(Print Post)
Kristina
Member


Posts: 199
Joined: Nov 2007
Reputation: 0

very nice tutorial, and it turned out perfect!!Thanx for sharing!
Possibly Related Threads...
Thread:
Author
Replies:
Views:
Last Post
Bat, Tree, and scene Tutorial ready. Short nail friendly
sobeit
19
11,344
10-26-2011 08:26 PM
Last Post: sobeit
Spider Tutorial as requested. *monster tutorial added!*
sobeit
11
5,632
10-08-2011 11:49 AM
Last Post: sobeit
+ + + TUTORIAL - UV-Gel Roses + + +
laDiva
11
8,176
04-30-2011 07:39 PM
Last Post: jb100680
Blue glass Edge nails ***Tutorial*** (pics)
NataliaNY
9
11,287
02-21-2010 11:36 PM
Last Post: LucyPink03
The "Edge" Tutorial
enhanced
6
9,885
12-22-2008 07:10 AM
Last Post: scratchmyback
Korame Gels [PICS!] Gradient and 3D Gel tutorial.
BeRrYGuRl
10
12,247
12-21-2008 04:06 AM
Last Post: HeatherNicole
Sandy's Baroque (yellow nail) tutorial per G's request ;)
Sandy Combs
10
12,155
12-20-2008 01:27 AM
Last Post: Sandy Combs
Safari WILD Kingdom Video Tutorial **NARRATION added:o)
*****Cindy
33
24,749
12-15-2008 07:00 PM
Last Post: wendynailart
3D acrylic Poinsettia flower picture tutorial ~ Nfu.Oh
Gina Silvestro
30
24,980
12-11-2008 11:12 PM
Last Post: AMYoung
3 D SANTA TUTORIAL
ATWISTOFFRENCH
14
11,358
12-09-2008 02:49 PM
Last Post: ATWISTOFFRENCH
User(s) browsing this thread: 1 Guest(s)